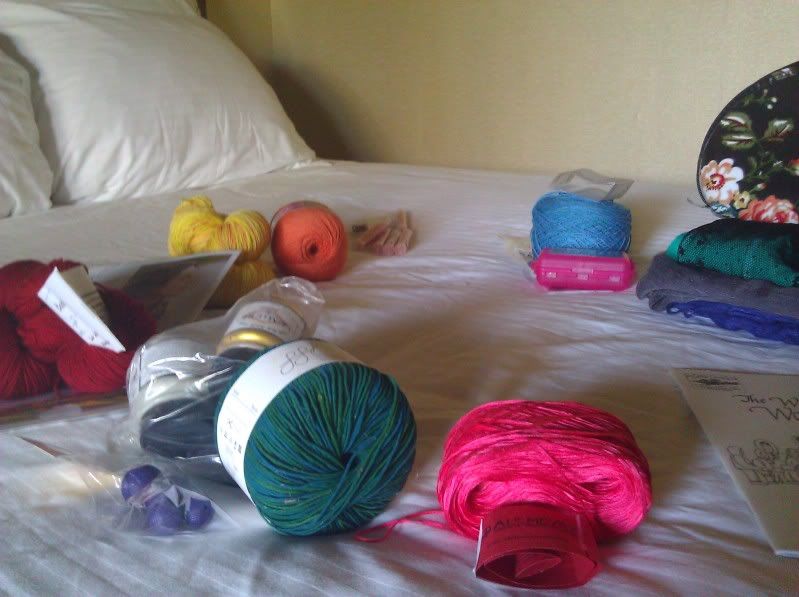 You question how the contents of the picture
possibly
could have come from the Comic Con? Well, when we were buying tickets, I gave my Saturday spot to a friend who joined our crew for the day (long story of how their stupid server would only allow you to buy 4 tickets; if you care, then you already know the sorted details). The "con" is an animal unto itself; I was glad to have the day away to go on my own San Diego Yarn Store Crawl.
Wanna hear what all I got? (Clockwise, using the blue yarn at the top as 12 am):
1. Baah! La Jolla Original Handpaint, A Nancy's Notions Doo Dad box, a crossstich bookmark (for Alexander); purchased from the Needlecraft Cottage
2. Scarves, a fun cardigan, and potential small project bag; purchased from the Pink Zone (on the way to the next store)
5. LLH Safari, yarn ball point protectors, and Jacquard fabric paints (payment/thank you to my mom for babysitting); purchased from The Black Sheep (GREAT parking and enjoyed the Comic con connection moment)
8. some gorgeous frosted pink beads (to be used with the Silken Straw in another Isobel) and really cool silver pinky ring with a plait running around the band; purhcased at The Bouncing Bead (next door to Two Sisters and Ewe)
This day was a fantastic day with 3 mini cupcakes and iced coffee for lunch (@ Cups after store 3 and before my 1 hr parking expired). All the stores had their strengths. It is always interesting visiting other stores than your home store; I am seeking an analogy and the best that I can come up with is like your first visit to a new potential friend's home and seeing if you could really hang out. If I had to choose a favorite, it popped up at the end of the day when I visited Yarning for Ewe. I knew that it was going to be a good experience when I
saw the sign in the window reading, "P.M.A., Positive Motivational Attitude practiced here." (I am pretty sure that I remembered that correctly.) We had an "it's a small world" moment when they connected me to a beloved customer that is moving to our neck of the woods that I have already had the pleasure of meeting. I felt the same way that I hope she felt when she first visited Anacapa, like I could sit down and be fast friends with all of the lovely knitters at the table (and, if Bella had been nap-able, then I would have). They had Bella modeling adorable baby hat samples and she was in hog heaven with all the cheers and attention. Such a great day; yarn people are the best people.
A close second is Two Sisters and Ewe where Annie let me squeeze in just near closing. If I had been there earlier in the day, then you would also be seeing a sweater size pile of The Fibre Co. Canopy Worsted which they have on sale for 4o% off.
Best part of Comic Con so far!